Free IT security reports for organizations on the front lines of COVID-19 response.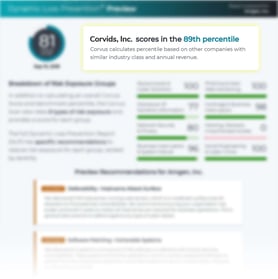 Corvus is pleased to offer our proprietary IT security reports to any organizations involved in the front-line healthcare response to the COVID-19 pandemic.
If you're caring for patients in your community, we want to help.
Based on the results of a non-intrusive scan, these reports provide a 1 to 100 score of overall cybersecurity and scores for eight key security sub-categories. The report also includes dozens of recommendations for key IT security issues to improve or fix.
All we need is the name of your organization, its primary website URL, and your valid business email address matching the name of your organization.
Here's how it works:
Enter your information in the form on this page
You'll get a confirmation by email that the report is underway
We'll send you a PDF copy of the report as soon as it's ready
Your team gets actionable recommendations to improve IT security!


This service is free of charge for qualifying organizations. Corvus will never use your information to market our products and services.